The Metelka family produce liqueurs for the fourth generation. Beverages with this name have been consumed by customers for more than 80 years. These archive photographs and original labels remind us the tradition founded by Antonín Metelka in 1934.
Unfortunately, many of these labels weren't preserved, but the ones that the family strongly protect tell us about rich and various types of alcoholic beverages in the past. Antonín Metelka graduated from the Secondary hotel school in Brno and worked in catering industry in Vyškov, Bučovice, and Brno. He supplied customers with an herbal liqueur Praděd, Liqueur de Chartreuse, a special herbal liqueur for hunters called Hubertus, and other popular spirits and liqueurs. He was a tavern owner in Vyškov at that time and he just wanted to offer something different. However, the original labels testify the fact that clients used to have a high level of aesthetics. Well, review it for yourself…

Chartreuse is a French herbal liqueur with strong savoury flavour. It's made with 130 mountain herbs and brandy. The liqueur's recipe was allegedly acquired by Carthusian monks from Marshal Francios d'Estrées. It's generally called a 'green fire'. This liqueur exists in green or yellow (light) version and it's commonly known as 'šartrezka'. This term is used in the Czech movies such as Stín kapradiny (Shades of Fern) or Byli jednou dva písaři.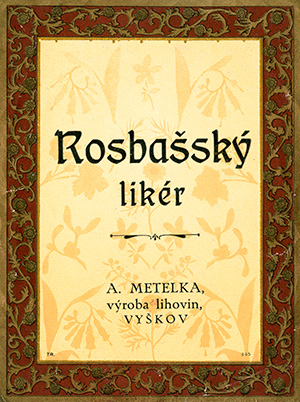 —
Praděd is a sweet golden herbal liqueur with slightly bitter flavour and its history dates back to 1877. Siefried Gessler was a liqueur producer from Krnov and he started to produce the liqueur back then. He gained a huge success with the herbal liqueur in Austria-Hungary and other countries. Sadly, the family lost the factory and later it was incorporated into state enterprises. It bankrupted in the 1990's. The trademarks were purchased by the Rudolf Jelínek Company in 2005 and the production of the Praděd liqueur was restored.