Vyškov has population about 20,000 and is located on the border of the Haná region. The city is known for its ZOO, DinoPark, and especially for its beautiful historical sites such as château with its beautiful garden, renaissance City Hall, Trinity column and fountain in Masaryk square, The Church of the Assumption of Our Lady, and the fortification.
In the historic city centre of Vyškov, which used to be called Haná Versailles, is located another attractive spot – Metelka Liquor Shop. It was opened in 2015 and it's one of a kind shop in Central Moravia. The shop located in Dobrovský Street is a small but cosy place. It offers all Metelka products and other Czech and foreign premium liquors. "I wanted it to be more than a regular shop. I wanted a pleasant place where customers can rest and get information about high quality spirits and the culture connected with it," Milan Metelka said. He often uses the shop as his office.
This vision was fulfilled in the interior design which was inspired by natural materials and calm symmetrical lines. As soon as you enter, you see massive wooden shelves with a wide range of alcohol beverages, a central counter, and tables inviting to sit down for a while. "As well as our entire production, Metelka Liquor Shop isn't a regular liquor store. The shop is specialized in selling premium spirits and giving professional advice," Metelka said. He adds that customers can select from more than 300 liquors which are mostly unavailable in supermarkets. "The other advantage is our ability to tell a story almost about every bottle we sell to our customers. This is what they never experience in supermarkets. I believe people who look for a lovely valuable gift for their love ones or they want high quality liquor will be very pleased in our shop," Metelka said.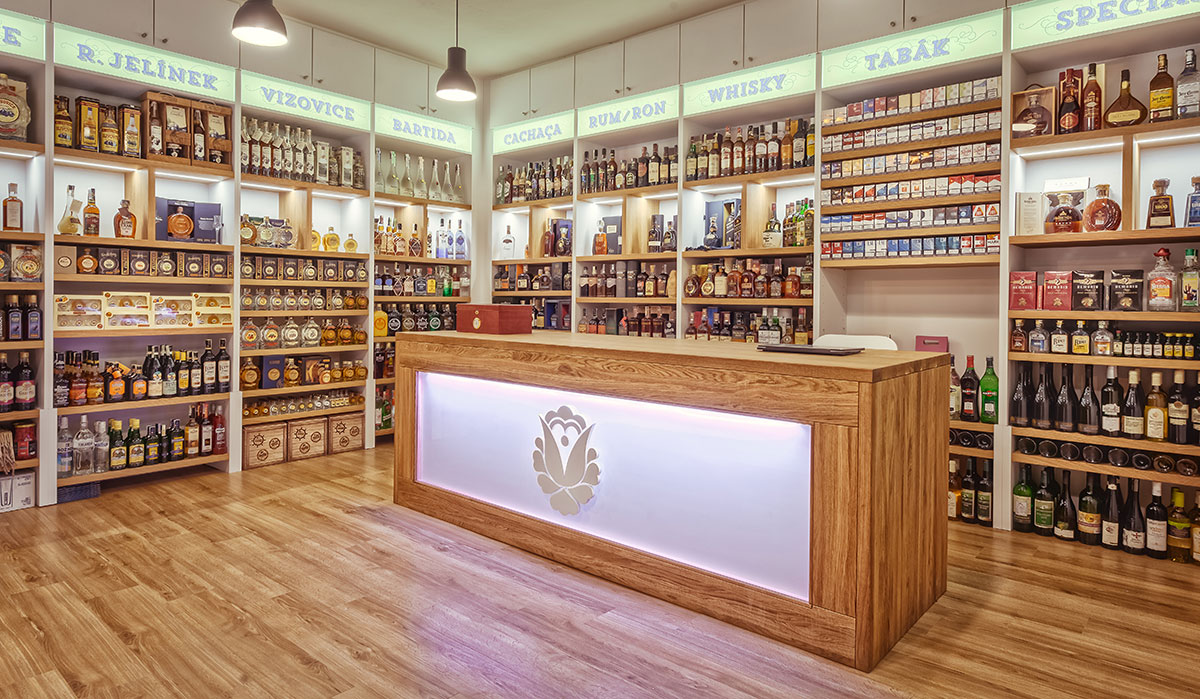 The central shelves at the entrance are reserved for Metelka products. All product lines in various bottle sizes are displayed here. "Some customers come for a particular product. For example, during Easter they come for Moravský Vaječný Tradiční (eggnog) and in the Christmas season they usually buy absinthes and Shaker products. Other just comming to see our shop and they are surprised by the rich offer," said Milan Metelka's sister Zlata Zelová, who is in charge of the shop.
Thanks to years of cooperation of Milan Metelka and his business colleagues, you can also find the products of Rudolf Jelínek and high quality liquors from around the world such as Caribbean rums, French cognacs, special vodkas, whiskeys, or tequilas. And because good drink works well with good tobacco, we sell a wide range of cigars, cigarettes, and chocolate products.
If the Metelka Company will be more successful, there may be other new shops in different locations in the future. "If everyhing will be fine, we would like to open more shops in other cities. We would like to spread the good name of our brand," Milan Metelka concluded.